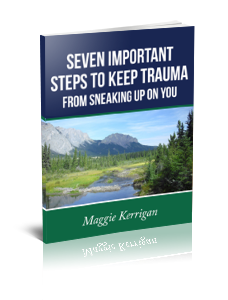 Are You Still Struggling to Feel Better After a Trauma Event?
Have you already seen medical professionals or therapists to help recover from an accident, injury, medical procedure, assault or childhood abuse, and you still don't feel significantly better? Does it seem as though you are:
Anxious after recurring trauma nightmares?
Suffering from PTSD due to military actions or war?
Terrified that you will have yet another accident?
Overwhelmed with anxiety and don't understand why?
Tired of swinging between angry outbursts and going numb?
Depressed because you feel like damaged goods after a trauma?
Exhausted from dealing with digestive problems, migraines, and chronic pain which medicines don't seem to help?
Body-centered approach
Using a short-term natural therapy approach, I help you to understand and trust that your body knows exactly how to recover from a serious threat. By attending to body sensations as well as thoughts and feelings, trauma symptoms can significantly ease or go away.
As a result, you can:
Go into strange environments feeling more relaxed: you won't worry about looking foolish by over reacting to a sound or someone's comment.
Know you can return to a more normal work or school life and even have energy to take on new projects.
Have fewer angry outbursts, which scare family members away.
Stop reliving the memory of the trauma over and over.
Feel confident that you know if it's ok for someone to touch you.
You are not the only one
How you are feeling is a very common way people respond to the stress of trauma. Many of my clients feel shame or judge themselves for not being able "to cope". It is not unusual to hear them blame themselves for getting so upset over a "minor" accident. They feel stupid or "too sensitive" about having allowed something that happened long ago to still affect them. Many believe their life has spun out of control and they find it difficult to get on with their lives.
But wait…
I have already seen other medical professionals and therapists
Many of my clients have felt the same way as you do and here is what they found as we worked through this together. They came to understand that the way they acted at the time of the trauma was largely unconscious. This work helped them to learn to observe their bodies in ways that helped them to come out of the paralyzing effects of the trauma.
Working with me, clients were amazed to discover just how smart their bodies really were in keeping them alive at the time of the trauma and then being able to return them to health. The panic attacks eased off; sleep and concentration got better and the frequency of the pain subsided.
Other professionals, whom they have seen, may not have had the same in-depth training about how trauma affects the body, and therefore, won't have the skill to work with it the way I do.
When I worked with trauma issues before, I felt worse, not better.
It is true. Some trauma treatments expect you to be able to tolerate the painful memories before you are fully prepared to do this. This can be very frightening and possibly traumatizing. Other approaches focus just on the beliefs that you have about the trauma event without paying attention to how it impacted your body.
Clients who have worked with me appreciate the inherent safe process of how we address the trauma. Before clients look at the trauma event they learn how to effectively calm themselves. Only then do they begin to address one small part of the trauma memory at a time. When clients actually confront the worse parts of the traumatic event, they are so well prepared that they are not overwhelmed by the memory. In fact, they come out of it feeling more capable to handle other current challenges.
I have a busy life and I don't want to spend more years in therapy.
How quickly therapy helps you to resolve the trauma symptoms varies with the nature of the threat. If you are dealing with the aftermath a single event, then the symptoms may subside significantly in a matter of weeks or months. If, however, the symptoms were created from multiple threats, which may have begun in childhood, then the treatment can take longer. In either case, by paying attention to the body you can resolve the symptoms more quickly than by doing just traditional talk therapy.
What have others experienced?
I was honored, recently, to work with a woman who had been severely abused for many years as a child. She described herself as being dead inside with very little sense of physical sensations in her body. Fearing physical contact, she withdrew at the slightest physical contact because she could not trust herself to know if someone meant her harm.  She felt very anxious and kept apart from others. Because of this, it was really hard for people to get to know her.
I saw her at the request of her psychotherapist, whom she had been seeing for five years for just talk therapy. Significant changes appeared after working with me for several years. For the first time that she could remember, she felt sensations that arose from physical contact and emotions, and she felt empowered enough to make requests about how and when she wanted to be touched.
She felt more alive in her body and was able to take better care of herself when she became ill. At the end of our time she delighted in receiving massage. Finally, she began to relax enough to risk being more like her natural self.
Why Maggie Kerrigan, MA LPC?
I bring a total of over 20 years' experience in helping people with trauma. Drawing upon my training as a licensed massage therapist and as a licensed professional counselor, I am skilled in working in ways that help the client integrate and reverse the psychological, emotional and physical effects of trauma.
For nine years, in addition to maintaining a private practice, I worked in the public health sector as an emergency mental health clinician for those in crisis, shock and pain. I understand the severe effects of trauma.
As a lifelong learner, I am committed to ongoing professional development, including five years postgraduate specialized training in treating trauma.
What can you do next?
Check out this web site. If you like what you find here and want to keep abreast of the latest in perspectives on trauma treatment subscribe to my FREE newsletter. You know that the traumatic event not only changed your thoughts and emotions but also how you feel in your body. The newsletter articles will address in an easy-to-understand and concise way how threatening events affect your biology and what you can do to reverse their effects.
If you think you need additional support, I suggest that we meet for a free 30-minute consultation. This way you can get a sense of whether I am a good fit for you, to hear how I work and for me to get a feel for whether I am the right therapist for you. Nearly all of my clients have felt very comfortable with our work and have made great progress. You should know, however, that I will continually check in with you to ensure you are comfortable and satisfied with our progress, and, if at any time you're not, I will be happy to refer you to another well-qualified trauma specialist.
Recent Posts
Many are anticipating politics to change and these changes are arousing strong feelings. These include fear, grief, emotional collapse and a general sense of overwhelm and exhaustion. For many a strong sense of helplessness combined with an intense… Read More
You may be shocked when you learn that someone you care about is intentionally cutting or burning herself. Two questions may arise: "Why?" and "What can I do to stop this?" In a prior article I explored some… Read More